Allicin
The main components of allicin are allicin, garlic oil, silicon dioxide and calcium carbonate, and its properties are white powder with special smell of garlic.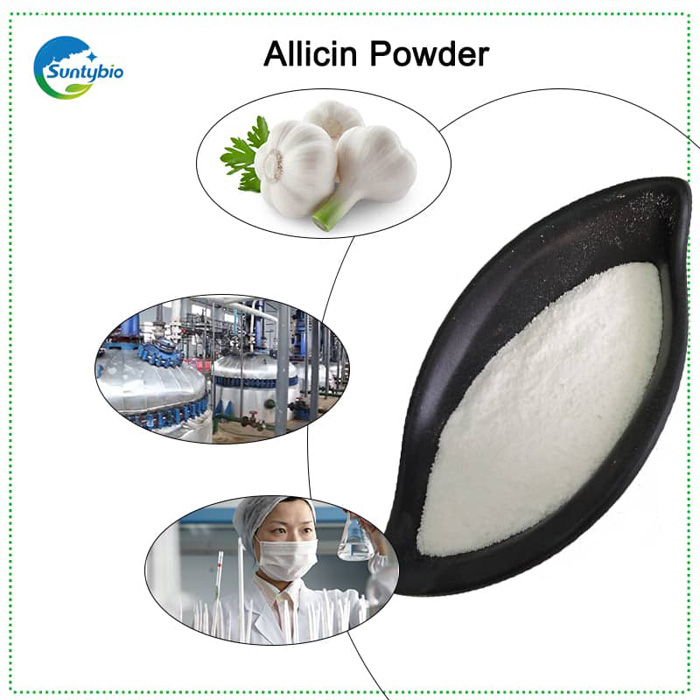 Biological function
1. Allicin has strong antibacterial and anti-inflammatory effects, and has inhibited or killed many kinds of cocci, bacilli, fungi and viruses. Allicin has obvious inhibitory or killing effects on a variety of pathogenic bacteria such as staphylococcus, meningitis, pneumococcus, streptococcus and diphtheria, dysentery, E. coli, typhoid, paratyphoid, pertussis, tuberculosis bacillus and cholera bacillus. The principle of antibacterial effect of allicin is that the oxygen atom in the allicin molecule combines with the sulfhydryl group in the cysteine molecule, which is necessary for the growth and reproduction of bacteria, and inhibits the growth and reproduction of bacteria.
2. Allicin has an inhibitory or killing effect on a variety of pathogenic fungi including Candida albicans. At low concentration, it mainly inhibits the growth of fungi, and at high concentration, it can kill the fungi completely. The antifungal mechanism of allicin is: inactivation of proteins through oxidation of sulfhydryl groups; competitive inhibition of compounds containing sulfhydryl groups such as cystine and glutathionine; non-competitive inhibition of the activity of certain enzymes within the fungus.
3. Effects on the digestive system Allicin has the effect of reducing nitrite content in the stomach and inhibiting nitrate-reducing bacteria. Allicin is used in the treatment of chronic gastric diseases, and it has significantly improved the symptoms of discomfort, fullness, hidden pain, acid reflux, belching, burning and loss of appetite in the stomach area. Helicobacter pylori is the main cause of peptic ulcer. The antibacterial and bactericidal effect of allicin on digestive tract bacteria is obvious, and allicin has good efficacy in treating diarrhea caused by chronic colitis.
4. Protective effect on liver: The mechanism of protective effect of allicin on chemical liver injury is that allicin can inhibit the damage of lipid peroxide on membrane structure. Allicin can increase the activity of glutathione s a transferase in hepatocytes and increase the combined detoxification function of liver, thus playing a protective role for liver and even the whole organism. Allicin can regulate lipid metabolism membrane transport and cell proliferation by increasing the level of hepatic cyclic adenosine acid, and increase the activity of enzymes to increase lipid hydrolysis and decrease biosynthesis, increase the excretion of lipid components, maintain the lipoproteins of serum, liver and kidney and triglycerides in the normal range, thus preventing and controlling fatty liver.
5. Allicin is a good immune-stimulating herb. In the experiment on the effect of allicin on immune function of mice, it was found that the weight of spleen and thymus in the drug-taking group increased, the activation of T lymphocytes increased, the number of antibody-forming cells in spleen increased, the level of monocyte secretion increased, and the release of lysozyme increased, so allicin can improve cellular immunity, humoral immunity and non-specific immune function.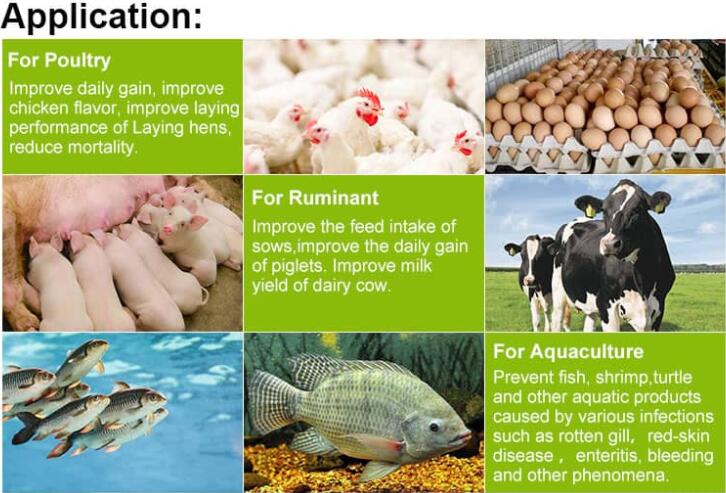 Clinical use
● Increase the flavor of broiler chicken and snapper.
Adding allicin to the feed of chicken or snapper can make the flavor of chicken and snapper become more intense.
● Increase the survival rate of animals.
Garlic has the functions of detoxification, sterilization, disease prevention and cure. Adding 0.1% of allicin to the feed of chickens, pigeons and other animals can increase the survival rate by 5% to 15%.
● Increase appetite.
Allicin has the effect of increasing gastric juice secretion and gastrointestinal motility, stimulating appetite and promoting digestion. Adding 0.1% of allicin preparation to feed can enhance the palatability of feed. It can enhance the palatability of feed. The unique fragrance of garlic can make animals feel appetite and make them eat quickly; meanwhile, it can enhance gastric juice secretion and gastrointestinal peristalsis after ingestion and promote digestion, thus promoting animal growth and significantly improving feed remuneration.
● Improve the palatability of feed 
The addition of allicin can significantly improve the palatability of feed and increase feed intake. Allicin attracts animals through the odor of garlic and makes them appetite, thus increasing feed intake. Most of the animals, especially fish, like the smell of allicin very much.
● Increased production performance 
Allicin can not only increase animal intake, but also prevent and control various diseases, improve immune function, improve the function of various systems in animals, promote gastrointestinal peristalsis and secretion of various digestive enzymes, and improve the digestion and utilization of feed by livestock and fish, thus improving production performance and reducing feed costs. Allicin can be turned into allicin under the action of enzymes and discharged in the form of feces and urine, which can stop the reproduction and growth of pests in breeding and improve the environment of enclosures and ponds.
● Antibacterial effect
Allicin can inhibit the reproduction of dysentery bacillus and typhoid bacillus, and has obvious inhibition and killing effect on staphylococcus and pneumococcus. Clinically, oral administration of allicin can treat enteritis, dysentery and loss of appetite in animals. It has obvious inhibitory and killing effects on harmful bacteria such as Escherichia coli, Salmonella, Staphylococcus aureus, Dysentery bacillus, Typhoid bacillus, Pneumococcus, Streptococcus, etc. It has no inhibitory effects on beneficial bacteria such as Lactobacillus casei.
● Detoxification and health care.
Allicin can significantly reduce the toxicity of harmful substances such as mercury, cyanide and nitrite. After animals ingest it, their fur will be shiny, their body will be strong, their disease resistance will be enhanced, and their survival rate will be improved, which is an ideal health care function.
● Anti-mold and insect repellent.
It effectively kills all kinds of molds and mildew, inhibits the growth of fly maggots, reduces mosquito and fly hazards on farms, extends the shelf life of feed and improves the feeding environment.
● Improve meat quality.
After animals ingest it, its meat, egg and milk quality is significantly improved, the original fishy smell is reduced and its taste becomes more delicious.
● It is effective in the treatment of fish, shrimp and turtle diseases such as gills, red skin, enteritis and bleeding caused by various infections.
● Lowering cholesterol.
Reduces the activity of 7α-cholesterol hydroxylase, resulting in the decrease of cholesterol content in serum, egg yolk and liver.
● Non-toxic, no side effects, no drug residue, no drug resistance. It is the best additive to replace antibiotics and produce safe and pollution-free products, and a guarantee of human health.
Caution:
It needs to be stirred well when using!