Yeast Cell Wall
Yeast cell wall is a kind of natural and efficient immune enhancer derived from yeast ,it is produced by autolysis,hydrolysis, separation and spray drying of yeast catalyzed by exogenous enzyme, the main functional components are mannan and beta-glucan, it can improve immunity,absorb pathogenic bateria and a variety of mycotoxins,protect animals from vomiting toxin,zearalenone and other toxins.
Yeast cell wall composition:
| | | | |
| --- | --- | --- | --- |
| Crude protein | Beta-glucan | MOS | Moisture |
| ≤35% | ≥20% or 25% | ≥20% or 25% | ≤10% |
1) What yeast cell wall is made up of ?
Yeast cell wall is made up of of two types of polysaccharides, D-glucan and D-mannan, and contains a small amount of protein, fat and minerals, is a natural green additive rich in various biologically active substances such as β-glucan and mannan (MOS), which can enhance immunity, prevent and treat diseases, promote growth, relieve stress, adsorb mycotoxins, and supplement nutrition etc. With physiological functions, wide source and low production cost, it has been applied to pigs, poultry, ruminant livestock, aquatic products and other animal breeding as feed additives.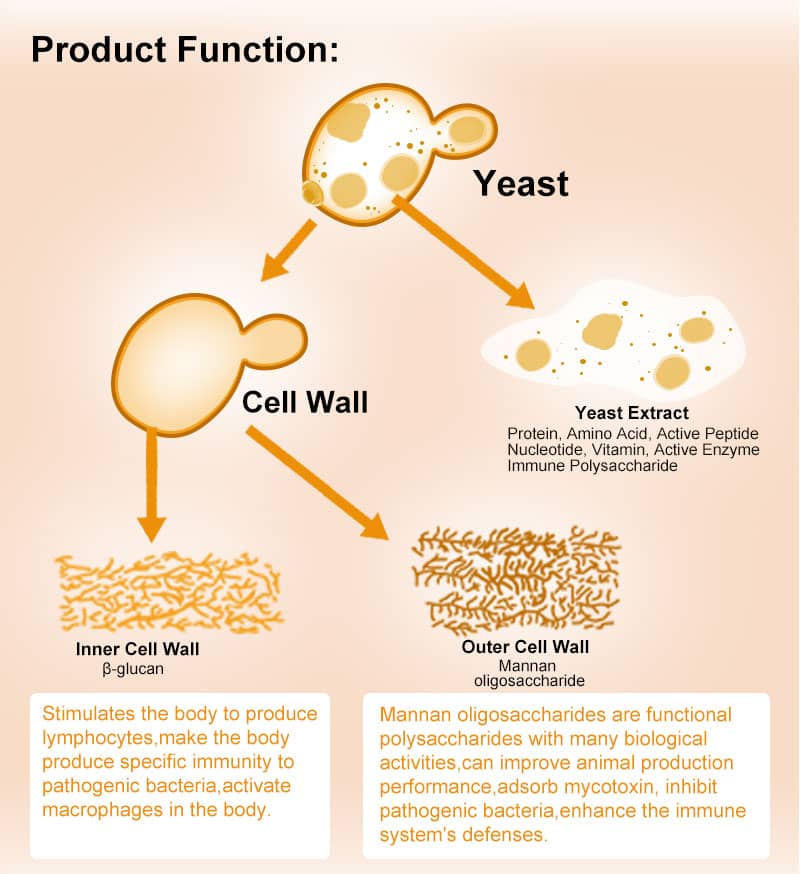 2) Features of yeast cell wall:
1. Rich in yeast β-1,3/1,6-D glucan and mannan oligosaccharide.
2. Natural immunopotentiator, no residue, no toxic and side effect.
3. Good stability, applicable for pelleting and puffing.
4. Advanced separation extraction process to ensure stable quality.
3) Yeast Cell Wall efficacy:
1. Absorb mycotoxins and decrease the restrain of mycotoixin on immunity system.
2. Promote the growth of aquatic animals and get down the feed coefficient.
3. Improve the hematopoetic function of animals as well as animal shape and fur.
4. Accelerate the immunity, milk production and butter-fat percentage of dairy cow.
If you want to buy yeast cell wall in large quantity with factory supply price, welcome to choose us. As a professional yeast cell wall supplier, Shuntian provides various animal feed additive products including: dry active yeast, feed grade yeast extract, brewer's yeast etc. With rigorous scientific research team and quality control system, our yeast products have gained high reputation from customers of Europe, Asia, South America, North America, Africa etc. Welcome to select your interested products and contact us for detailed information!