Yeast Cell Wall
Yeast cell wall is a kind of natural and efficient immune enhancer derived from yeast, it is produced by autolysis,hydrolysis, separation and spray drying of yeast catalyzed by exogenous enzyme, the main functional components are mannan and beta-glucan, animal feed additives yeast cell wall can improve immunity,absorb pathogenic bateria and a variety of mycotoxins, protect animals from vomiting toxin, zearalenone and other toxins.
Yeast cell wall composition:
Apprearance

Light yellow to taupe

Form

Powder

Odour

With yeast cell wall characteristic odor, no odor

Application

Poultry,Ruminate,Aquaculture,Swine,Pets and special animals

Yeast cell wall is made up of

1).β-glucan: stimulates the body to produce lymphocytes,make the body produce specific immunity to pathogenic bacteria,activate macrophages in the body.

2).MOS: Mannan oligosaccharides are functional polysaccharides with many biological activities,can improve animal production performance,adsorb mycotoxin, inhibit pathogenic bacteria,enhance the immune system's defenses.

Product Features

Stomach acid resistant, high temperature resistant, can granulating, widely used in animal Feed

Product Function

1) Stimulating immune factor,enhance body immunity.

2) Maintain the balance of animal intestinal flora and reduce gastrointestinal diseases.

3) Adsorb mycotoxin, inhibit pathogenic bacteria

4) Improve animal production performance
| | | |
| --- | --- | --- |
| Yeast cell wall composition | Grade 1 | Grade 2 |
| Crude Protein,% ≤ | 35.0 | 35.0 |
| Mannosan% ≥ | 20.0 | 25.0 |
| β-Glucan % ≥ | 20.0 | 25.0 |
| Moisture,% ≤ | 10.0 | 10.0 |
Hygienic index

Standard

Aflatoxin B1,ug/kg

≤10

Pb,mg/kg

≤5.0

Hg,mg/kg

≤0.1

As,mg/kg

≤2.0

Cd,mg/kg

≤0.5

Coliforms cfu/g

≤1.0*102

Molds cfu/g

≤2.0*104

Salmonella in25g

Absent
Packaging & Storage
Packaging:25kg/Ton bag, OEM label.
Storage: Store cool, dry and protect product from direct light.
Shelf life: 24 months when kept in the above mentioned conditions.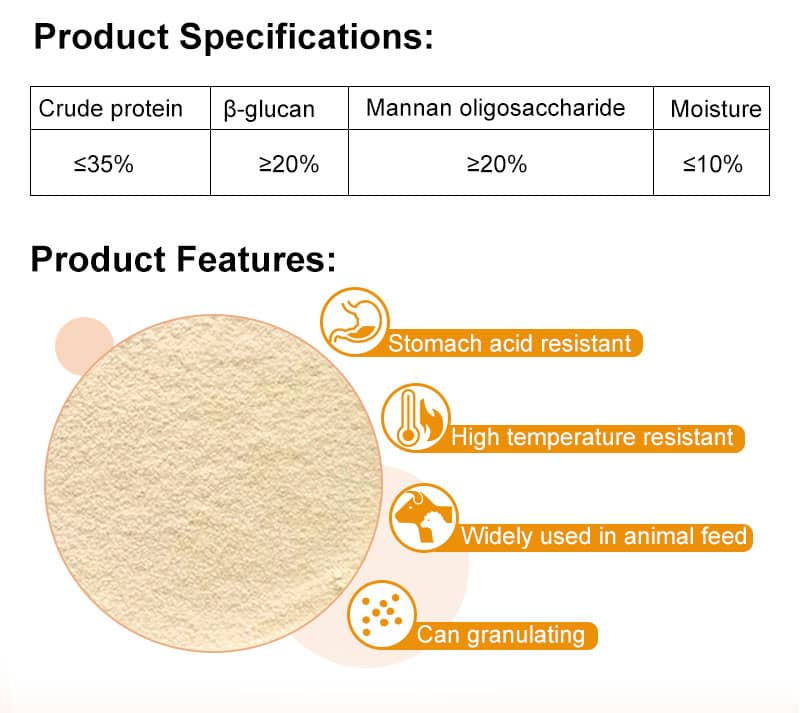 1) What yeast cell wall is made up of ?
Yeast cell wall is made up of of two types of polysaccharides, D-glucan and D-mannan, and contains a small amount of protein, fat and minerals, is a natural green additive rich in various biologically active substances such as β-glucan and mannan (MOS), which can enhance immunity, prevent and treat diseases, promote growth, relieve stress, adsorb mycotoxins, and supplement nutrition etc. With physiological functions, wide source and low production cost, animal feed yeast cell wall has been applied to pigs, poultry, ruminant livestock, aquatic products and other animal breeding as feed additives.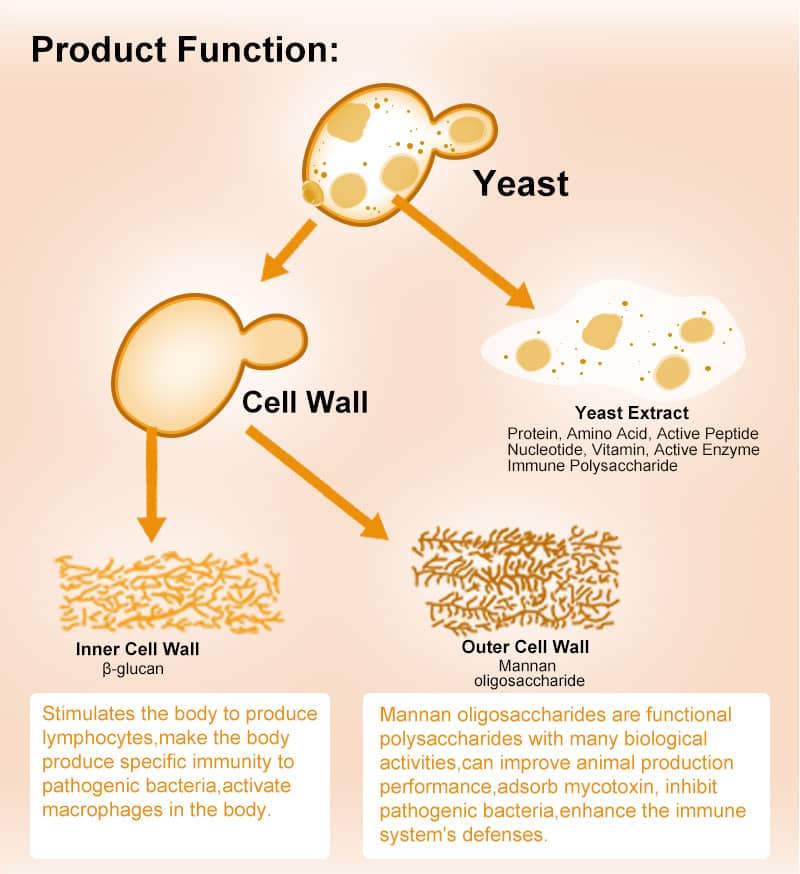 2) Features of feed grade yeast cell wall:
1. Rich in yeast β-1,3/1,6-D glucan and mannan oligosaccharide.
2. Natural immunopotentiator, no residue, no toxic and side effect.
3. Good stability, applicable for pelleting and puffing.
4. Advanced separation extraction process to ensure stable quality.
3) Yeast Cell Wall product efficacy:
1. Absorb mycotoxins and decrease the restrain of mycotoixin on immunity system.
2. Promote the growth of aquatic animals and get down the feed coefficient.
3. Improve the hematopoetic function of animals as well as animal shape and fur.
4. Accelerate the immunity, milk production and butter-fat percentage of dairy cow.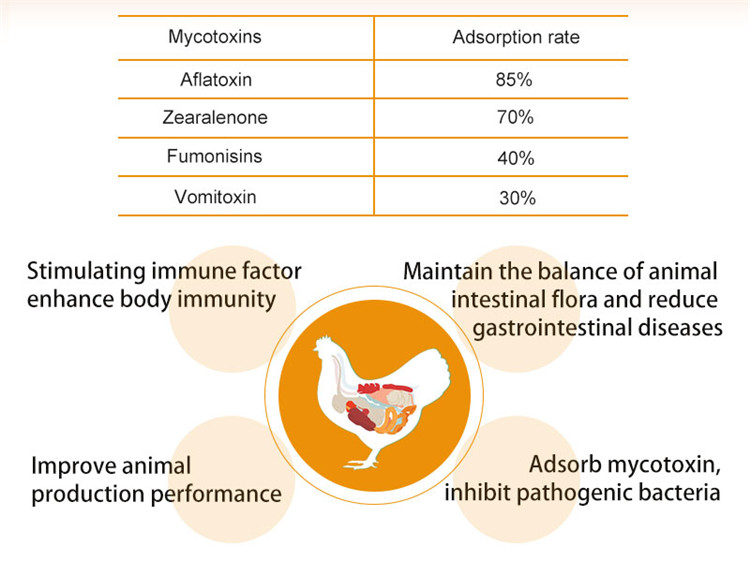 using cell wall products from molasses fermentation of pure culture yeast with more stable quality and better adsorption effects.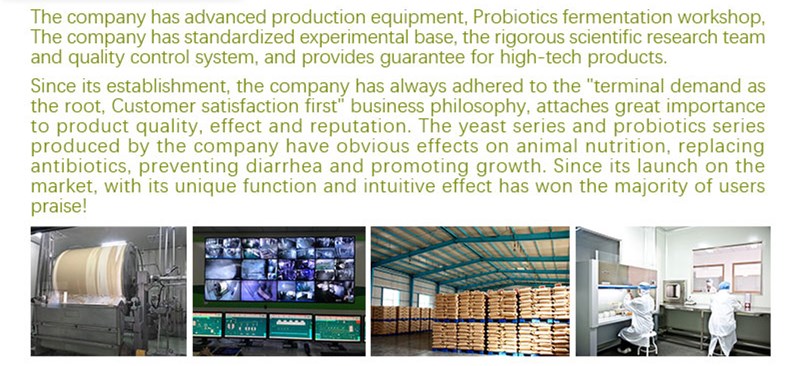 If you want to buy bulk yeast cell wall for Poultry, Ruminant, Aquaculture or special animals feed additives with factory supply price, welcome to choose us. As a professional yeast cell wall supplier, Shuntian provides various animal feed additive products including: dry active yeast, feed grade yeast extract, brewer's yeast etc. With rigorous scientific research team and quality control system, our yeast products have gained high reputation from customers of Europe, Asia, South America, North America, Africa etc. Welcome to select your interested products and contact us for detailed information!