Autolyzed Yeast/Yeast Hydrolysate
What is autolyzed yeast?
Autolyzed yeast is also named hydrolized yeast,it is select saccharomyces cerevisiae as the strain, obtained by liquid fermentation of bacteria, and then by autorolysis or exogenous enzyme catalytic hydrolysis, concentration or drying products, greatly improve the nutritional value of yeast. Autolyzed yeast extract is rich in mannan oligosaccharides, nucleic acids, nucleotides, small peptides, digestive enzymes, free amino acids and B vitamins, its more easily digested and absorbed by young animals.
Autolyzed yeast ---The best functional hydrolyzed protein source for animals
1. Autolyzed Yeast Specifications:
| | |
| --- | --- |
| Form | Powder |
| Appearance | light yellow to taupe |
| Odour | With autolyzed yeast characteristic odor, no odor |
| Application | Poultry,Ruminate,Aquaculture,Pig,Pets and special animals |
Chemical specification

Grade 1

Grade 2

Crude Protein,% ≥

45

50

Amino Acid Nitrogen,% ≥

2.0

2.5

Mannosan,% ≥

5.0

5.0

Crude ash,% ≤

8.0

8.0

Moisture,% ≤

8.0

8.0

All indexes except moisture were measured on dry basis
Hygienic index

Standard

Aflatoxin B1,ug/kg

≤10

Pb,mg/kg

≤5.0

Hg,mg/kg

≤0.1

As,mg/kg

≤2.0

Cd,mg/kg

≤0.5

Coliforms cfu/g

≤1.0*102

Molds cfu/g

≤2.0*104

Salmonella in25g

Absent
2. Hydrolyzed yeast Features:
1).With fresh molasses as raw material,using pure yeast culture
2).Strong food attraction Easily digested and absorbed by young animal
3).Rich in a large number of nucleotides,small peptides,digestive enzymes,amino acids and vitamins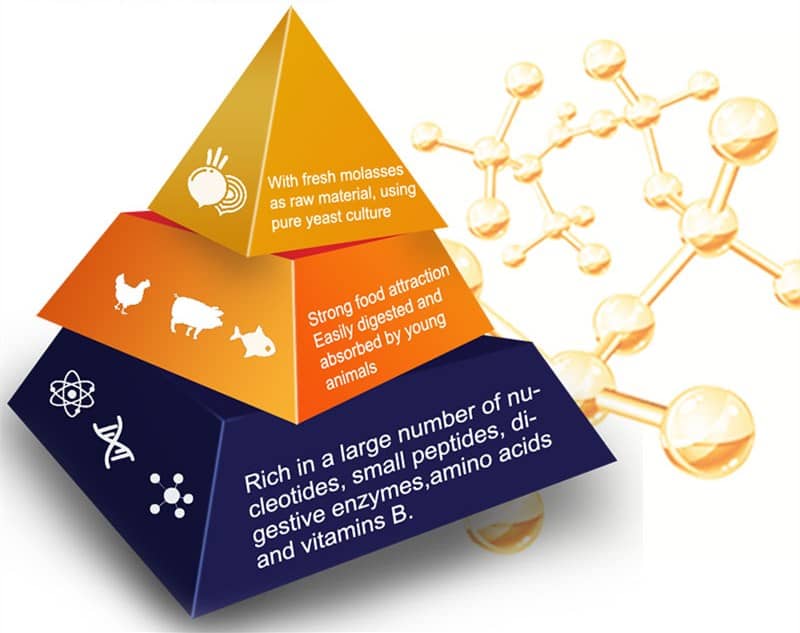 The functional of yeast hydrolysate:
For pig:
Hydrolyzed yeast for pig can stimulate sows tast intake Maintain intestinal health, improve the reproductive performance, improve sow milk yield,reduce postpartum infection.
Reduce the mortality rate Partially or completely replace plasma protein powder without affecting weight gain.
For Poultry:
Autolyzed yeast for poultry can supply exogenous nucleic acids to meet the animal's needs for nucleic acids when the endogenous synthesis of nucleotides is insufficient under the conditions of immune stress, liver injury and rapid growth.
Promote small intestinal development improve morphology of small intestine,enhance the function of intestinal digestion and absorption,reduce the fatality rate, improve the feed conversion rate.
For Aquatice product:
Autolyzed yeast for aquatice can improve the aquatic animal food intake Rich in flavor nucleotide disodium(L+G) and flavor animo acids,can significantly improve the feed palatability.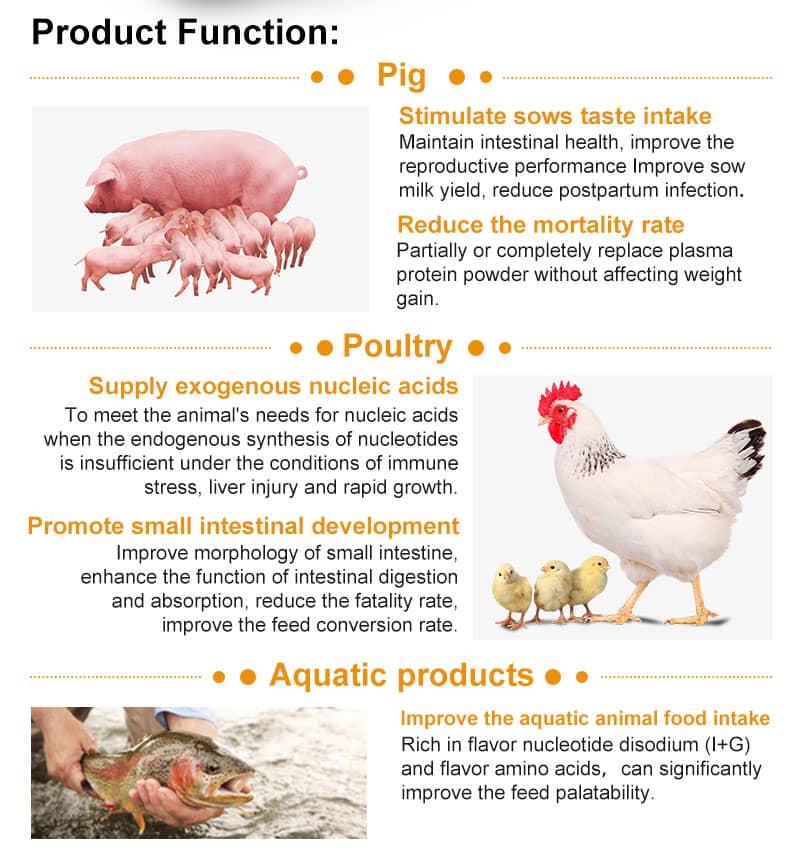 4. Hydrolyzed Yeast Animal Feed Packaging & Storage
Packaging:25kg /Ton bag, OEM label.
Storage: Store cool, dry and protect product from direct light.
Shelf life: 24 months when kept in the above mentioned conditions.
As a new single feed material,hydrolized yeast is hydrolyzed protein has a strong function of inducing food, and can be easily digested and absorbed by young animals. Feed grade dried yeast hydrolysate can maintain intestinal morphology, regulate intestinal microflora and reduce diarrhea, and can significantly improve immunity. It is a kind of additive substance that can replace plasma protein powder. In the face of the high price of fish meal and plasma protein powder and the increasingly prominent biosafety problems, feed grade yeast hydrolysates have a very broad market prospect.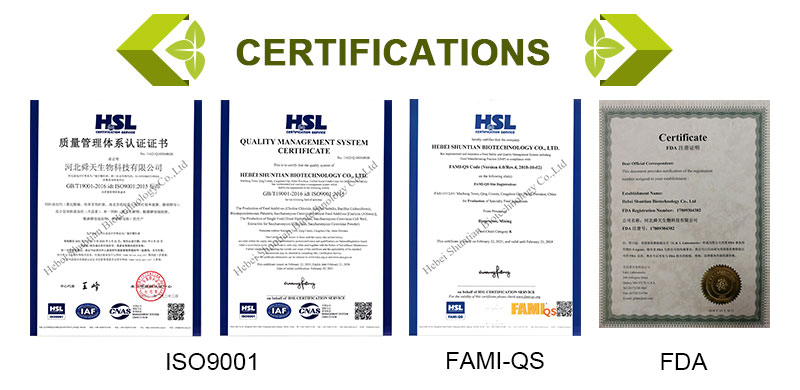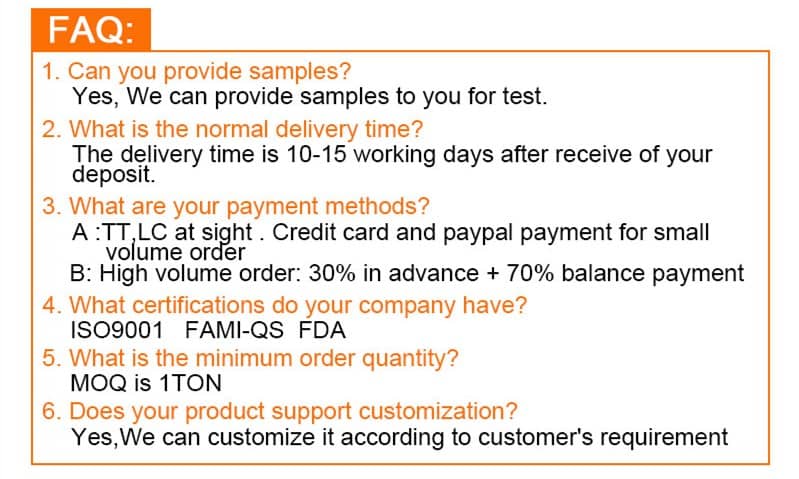 As a professional animal feed hydrolyzed yeast supplier, Shuntian provides wholesale hydrolyzed yeast and related animal feed yeast and probiotics with FAMI-QS, ISO certification and factory supply price. More about yeast hydrolysate ,welcome to inquire with us...